Welcome to Matapihi Kindergarten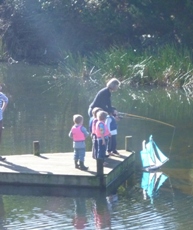 Our centre is located at 390 Te Mata Road a few minutes drive from beautiful
Raglan. Set in 8 acres of trees, native bush, lawns and our own mini lake Matapihi is an ideal location for a quality Kindergarten.
We are licensed to take up to 30 children, but have space which far exceeds the requirement for that number. We have designed Matapihi as a space where children can grow and learn at their own pace with plenty of challenges to keep them active and involved.
The centre is for children aged 3 to 5 years and provides a safe, beautiful, rural environment with lots of room to run around.
matapihi  [1] [Noun]  young, plant or person 
I te tutahi, he matapihi te katoa, na ka tupu. Firstly, everything is small and young and then there is growth.
Hours
There will be several options of session times to choose from: Monday to Friday, or Monday, Tuesday and Thursday or Wednesday and Friday. Start times will be between 8am and 9.30am and finish times will be between 2.30pm and 4pm. The minimum booking for a day will be 5 hours and the maximum will be 8 hours.

View the 2017 Education Review Office Report for Matapihi Kindergarten.



Download an enrolment form.